Web For Student
Web4 Student Login
Please ensure to use CAPITAL LETTERS and Zeros (not letter O) in username when logging in to Web4 student with your student ID (e.g. R00012345).
If you enter it incorrectly 3 times your account will be locked out and you will have to go to the IT Service Desk for it to be unlocked. Unlocking of accounts will only take place during off peak hours.


Web4 Student Support
Your Web for Student account is used for three main reasons:
1. To enrol for elective modules online. This should be done as soon as you have chosen your electives.
2. To obtain your examination results online. Your results will be available at the end of each semester.
3. To manage your Student Account password and personalised security question for resetting passwords.
It is essential that you enrol for your electives online so that your name is included in class lists, you can access Canvas, your exam timetables are accurate and your results can be processed. If you do not enrol for your electives, you will not be included in any of these functions. Details on how to access your Web for Student account, including your User ID and Web for Student PIN, will be sent to your myCIT email account.
To access Web for Student, please click here.

Following recent system upgrades, enhanced password security has been introduced in Web for Student and Canvas.
Recent security audits have also recommended moving from a 6 digit PIN/Password to a minimum 8 character password containing both numeric and alphabetical characters. The new Web for Student password format requires that your Web for Student/Canvas PIN be a minimum of 8 characters in length, and include both numeric and alphabetical characters. This new setting will become active from 30/07/2010.
The next time you log in to Web for Student, you will be asked to change your password to a new password of 8 characters in length.
Please change your PIN now by clicking here.
Your new Web for Student PIN will then be copied to your Canvas account within 15 minutes, so you may still use the same PIN to access the two systems.
After the re-set of the PIN parameters on Web for Student to a minimum of 8 characters, all users, both existing and new, will be forced to change their PIN on first login.
Should you require assistance with changing your PIN, please follow the steps provided below:
1a. The following is the first screen displayed:
Enter your user ID and initial PIN as displayed below (use capital letters), and click Login: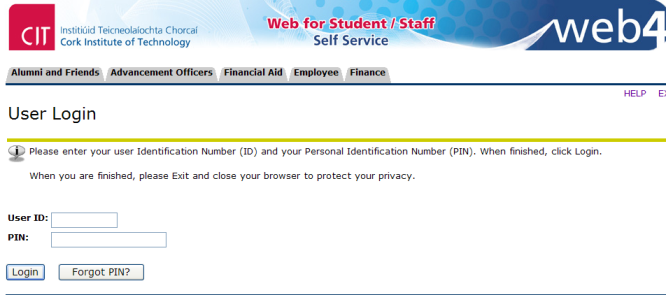 1b.Your initial PIN will now automatically expire, and you will be asked to enter a new PIN of your choice.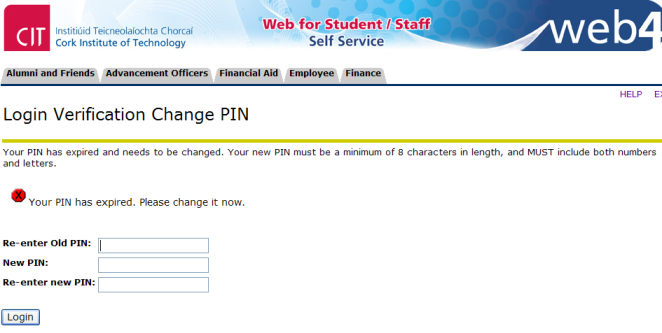 2. If the user attempts to enter a PIN which is less than 8 characters, or does not include the requisite alpha or numeric characters, the following message is displayed: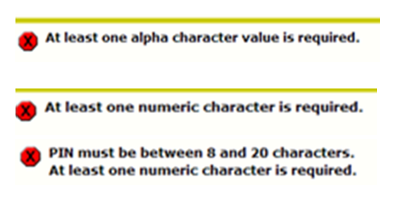 3. Having successfully entered a new PIN, the following screen is displayed to new users. You will now be asked to confirm your PIN, and select a security question to be used in the event of losing your PIN in future. When you have entered your security question and answer, click Submit.

Forgotten PIN
1. If a user forgets his or her PIN, the user can click on the Forgot PIN? button on the user login screen.

2. The following screen will be displayed:

3. If the user answers the security question correctly, the following screen appears: