Blackboard
The Blackboard Learning System is a web-based server software platform. The system provides a repository for formal course documents and a storage area for work programmes, lecturer-uploaded notes, presentations and assessments.
It also provides a mechanism whereby students can submit their projects for grading, a communication area, and a list of relevant online external links and resources. It allows tracking mechanisms to monitor student use and progress, and provides various assessment tools.
The Blackboard system is integrated with the CIT registration system, so that when you register for a course or module, you are automatically enrolled in the corresponding course on Blackboard.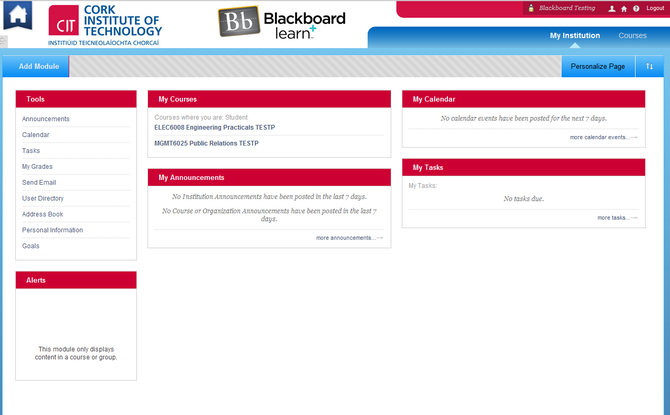 Your lecturer has the option to use Blackboard or not. If you are in a "Blackboard class", your lecturer will announce it, and advise how the system will be used for the class.
This site is accessible at https://citbb.blackboard.com  or directly from the student portal www.mycit.ie . Any queries about the system can be directed to elearning@cit.ie. Everyone's home page will look slightly different to this, depending on their modules and whether your lecturer is using Blackboard or not.
More informationon Blackboard is available on the student portal at blackboard/guide/